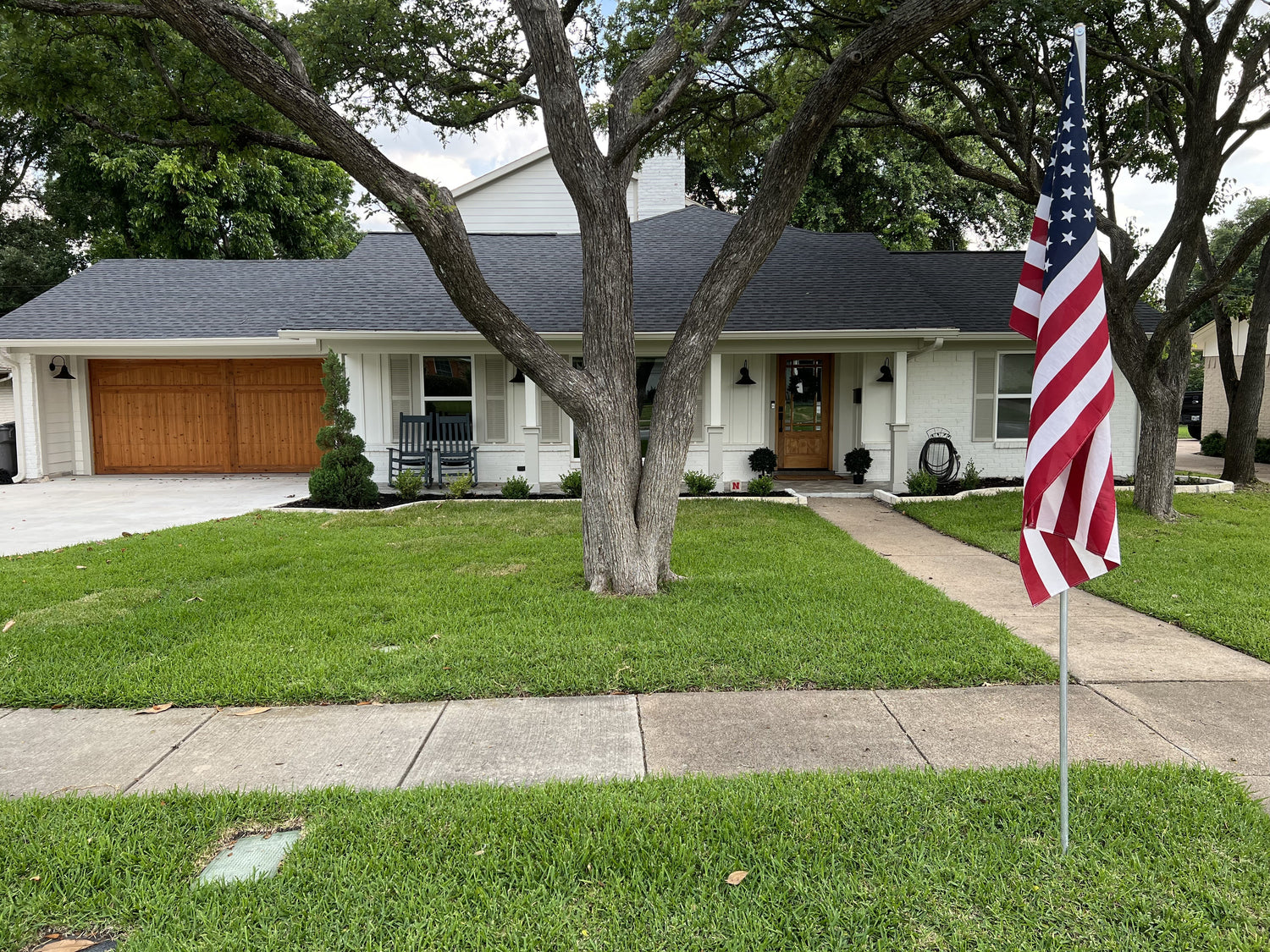 Full Service American Flags, When it Matters Most
American Flag Association is the original full-service American Flag display company serving the Greater Omaha Area. We are thrilled to offer residents and businesses the opportunity to share their pride for our country by joining our member community.
Once you purchase a membership (just $90 for a full year of holidays when you opt-in for auto-renewal) we will install a 3 foot x 5 foot American Flag at your home or business for each Memorial Day, Flag Day, 4th of July, Labor Day, Patriot Day, AND Veterans' Day. We place the Flags on or before the weekend leading up to each of these holidays, and we collect the Flags and poles within 1-3 days afterward.
THAT'S ALL SIX HOLIDAYS of premium Star-Spangled Banner(s) gallantly streaming FOR ONE LOW ANNUAL FEE -- no installation hassle, no maintenance, no storage, no scrambling to get a flag out on the day of a party, just a display of your civic pride that the whole community can enjoy as they pass by.
We'll say it one more time because you would not believe how often people think that the price is $90 per holiday: It's only $90 for the entire year of service!
Become a Member! Order Your Flag(s) Today!
Who We Serve
American Flag Association serves members in all types of settings, including homes, neighborhoods through HOA bulk orders, country clubs, businesses (large campuses or multi-locations), schools, public parks, private event venues, and more.
Real estate agents! Contact Us to discuss rates for installs at home or business property listings, open houses, land sales, and more.
Frequently Asked Questions
What will be installed in my yard?

We will insert a 1-inch diameter PVC sleeve in the ground approximately 1-2 feet from your curb. When the flag is not in the sleeve during the holidays, we cap the sleeve so that no debris gets in. We install the sleeve flush with the ground so as not to impair or obstruct normal lawn care. Our sleeves/caps are so discreet (the 1" diameter is about the size of a small sprinkler head) that you will often see our delivery team pacing your yard looking for the sleeve each time we need to locate the sleeve when delivering the flag(s) for each holiday.
Where will you be placing the flag in my yard?

The recommend placement that we use unless otherwise directed is to center the Flag to your house/property from the street view or next to your mailbox if frontage is an irregular shape. We generally space flags evenly across the frontage if you order more than one flag. The flag will sit 1-2 feet from the curbside. We do not place flags near the house or in backyards unless as part of a custom bulk order. When multiple neighbors get signed up, the consistent look from yard to yard really makes the neighborhood display come to life!

We only dig about 12 inches deep so our sleeves are safely above the margin of safety for compliant utilities and other facilities in line digging safety guidelines. It is your responsibility to advise us on placement necessary to avoid any unusual, shallow curbside sprinkler, plumbing, or electrical hazard of which you may be aware. Of course, our installers will be on the lookout for above-ground evidence of sprinklers, etc.

There is an input box for special notes or instructions when reviewing your Cart prior to checkout. Of course feel free to Contact Us anytime through the forms on this site.
What holidays will Flags be on display?

2023 Schedule:

Memorial Day (May 29)
Flag Day (June 14)
Independence Day (July 4)
Labor Day (September 4)
Patriot Day (September 11)
Veterans' Day (November 11) **

Note that we generally leave Flags installed the week between Labor Day and Patriot Day as there is generally less than 1 week between the holidays this year.

** If any of the major school districts cancel operations due to snow, ice, cold, or other severe weather, we will not install Flags for Veterans' Day - instead we will donate an additional $1 per Flag to the Wounded Warriors Family Support Foundation (see AFA gives back).
What if I start my membership between holidays? Midway through the year?

Don't worry if you join partway through the year, you will not be charged for renewal until a full year has passed since your purchase and you have received your Flag(s) for all 6 holidays. We make it easy to check the status of your membership, manage payment methods, or cancel at any time. Of course Contact Us at any time and we will be happy to assist.
What areas/zip codes do you serve?

We currently serve the Greater Omaha Area, but we look forward to expanding to Lincoln and other large communities throughout Nebraska. This web store does not allow us to manually restrict orders to specific zip codes so if you submit an order for an address outside the below zip codes, unfortunately we will likely have to cancel and refund your order.

68005, 68007, 68010, 68022, 68028, 68046, 68059, 68064, 68069, 68102, 68104, 68105, 68106, 68107, 68108, 68110, 68111, 68112, 68113, 68114, 68116, 68117, 68118, 68122, 68123, 68124, 68127, 68128, 68130, 68131, 68132, 68133, 68134, 68135, 68136, 68137, 68138, 68142, 68147, 68144, 68152, 68154, 68157, 68164, and 68178
Would you do shoreline / backyard installs at lake houses?

We get this question all the time, and nothing says "SUMMER!" like American Flags planted in beaches during a holiday weekend at the lake.

This is a more complicated custom install that we are more than happy do if multiple homes in a cove or similar cluster want to coordinate a custom / bulk order. Generally ranging between $110-$150 per flag per year depending on number of houses participating, accessibility of shoreline, and nature of the soil/sand/etc.

Please Contact Us or fill out a Bulk Order request form to get started!
Am I purchasing the Flag to keep?

No, the Flags are the property of the American Flag Association. The benefit of membership is that you do not have to store, maintain, or remember to put the Flag up on the holidays. We take care of everything. Think of the pole and Flag as 'rentals' during the days on display at your home or business.
Do I need to worry about zoning regulations?

Our temporary holiday Flag displays are in compliance with local zoning regulations.

While we can't attest to specific HOA policies, the nature of our flag displays, which are in fact a temporary holiday decoration, are generally well-liked by HOAs. We provide volume discounts to HOA-sponsored subscriptions so please contact us if your neighborhood association is interested in a bulk order.

As our sleeves are less than 18 inches deep (just 12 inches deep), our flag installation is considered allowable excavation under Nebraska811 guidelines relative to utility lines and other underground facilities. Of course there is always a risk of running into private facilities (sprinkler lines, etc.) for which we exercise caution when initially installing the sleeve. However, it is your responsibility to advise us on placement necessary to avoid any unusual, shallow curbside sprinkler, plumbing, or electrical hazard of which you may be aware.
How does Moving impact membership?

Unfortunately, membership is not transferrable to a new installation address, the annual membership fee is specific to our efforts to install and maintain service to the original house. If you move, you will need to purchase a new membership. However, if our prices increase over time, Contact Us and we will honor your annual membership price from your old house.
Do you offer discounts?

Do you want to go above and beyond and truly Star-Spangle your Yard?

The membership price per Flag per Year is reduced for orders of 3 or more Flags.

Are you a business, country club, HOA, or farmland that wants to line your property or fill an order for an entire neighborhood?

Fill out our Bulk Order Request Form on our 'Become a Member!' page for more information.